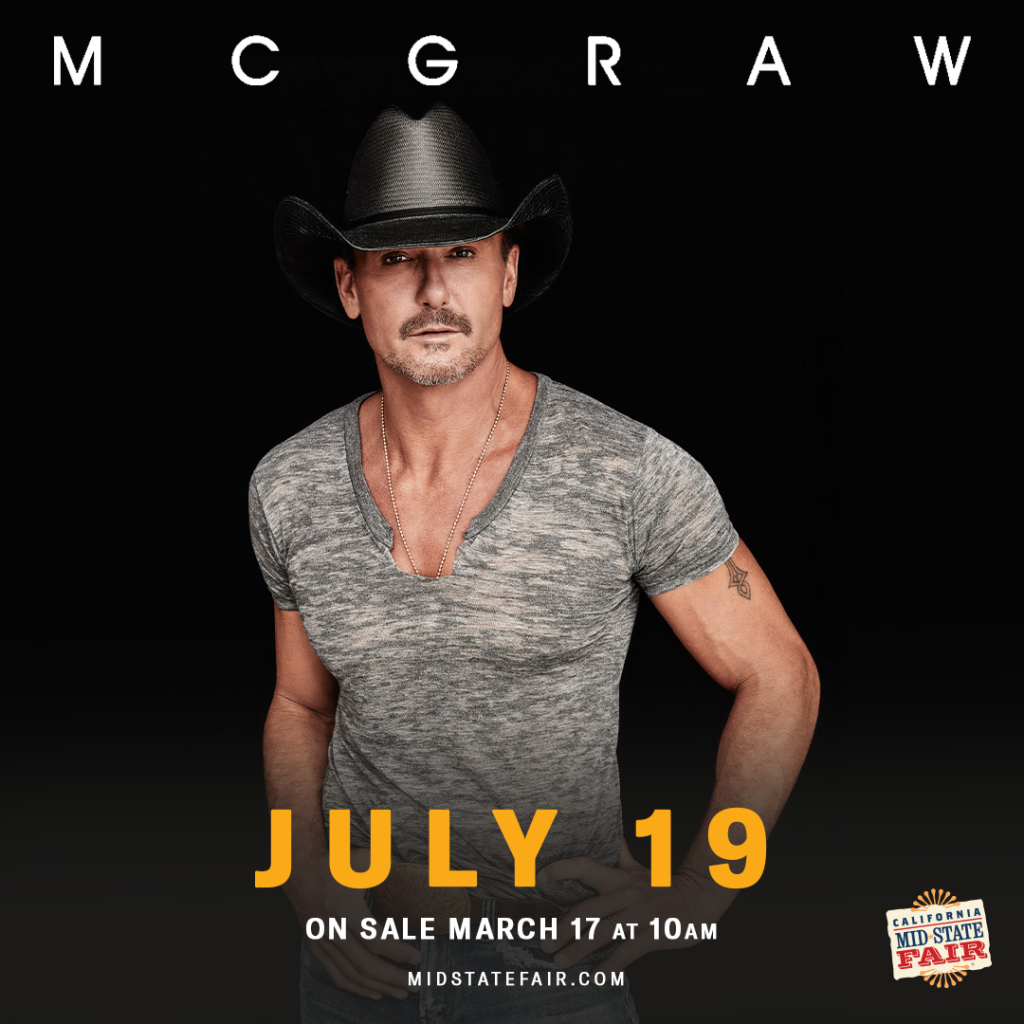 93.7 Kiss Country is proud to welcome Tim McGraw to California Mid-State Fair on Wednesday, July 19, 2023 at 7:30 PM to the Chumash Grandstand Arena at the Paso Robles Event Center.
Tim McGraw
California Mid-State Fair
Wednesday, July 19, 2023 – 7:30 PM
Chumash Grandstand Arena at Paso Robles Event Center
Paso Robles, CA
Bio
Tim McGraw has sold more than 90 million records worldwide and dominated the charts with 46 worldwide No. 1 singles and 19 worldwide No. 1 albums. He's won 3 Grammy Awards, 19 Academy of Country Music Awards, 14 Country Music Association Awards. His iconic career achievements include being named BDS Radio's Most Played Artist of the Decade for all music genres and having the Most Played Song of the Decade for all music genres. He is the most played country artist at radio since his debut in 1992, with two singles spending 10 weeks or more at No. 1. Known for his high energy concerts, he is one of the top touring artists of all time including the record-setting "Soul2Soul" tours with his wife, Faith Hill.
An acclaimed actor, McGraw starred in and narrated the hit movie "The Shack" and co-wrote and performed the closing credit song for the Oscar winning documentary "Free Solo." His other movie credits include blockbuster hits "Friday Night Lights" and "The Blind Side. McGraw starred beside Sam Elliott and his wife Faith Hill in the Yellowstone prequel and three-time Emmy nominated 1883.
McGraw has co-authored two New York Times Best Selling books, Songs of America: Patriotism, Protest and the Music that Made a Nation with Jon Meacham and fitness book Grit & Grace: Train the Mind, Train the Body, Own Your Life. McGraw's recently celebrated his country radio #1 single, "7500 OBO" from the #1 album, Here On Earth.
Buy Tickets
Tickets go on sale Friday, March 17 at 10:00am. Tickets and information available online at MidStateFair.com
Venue: Chumash Grandstand Arena at Paso Robles Event Center