Join 93.7 Kiss Country for the 105th Clovis Rodeo April 25-28, 2019. One of only nine PRCA Gold Tour Rodeos in the nation! Great concerts, world champion cowboys and the best bucking stock in the sport come to Clovis every April because they say the fans are second to none. Grab your boots, grab your hat and join us for the 105th Clovis Rodeo.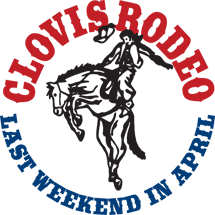 105th Annual Clovis Rodeo
Monday, April 22 – John W. Jones Memorial Steer Wrestling Jackpot
Tuesday, April 23 – James Pickens Jr. Charity Roping
Wednesday, April 24 – Clovis Rodeo Blood Drive
Thursday, April 25 – PBR Bull Riding Velocity Tour and Russell Dickerson in Concert
Friday, April 26 – Rodeo Performance and Aaron Watson in Concert
Saturday, April 27 – Clovis Rodeo Parade, Rodeo Performance & Clovis Rodeo Dance
Sunday, April 28 – Rodeo Performance
Clovis Rodeo Grounds
Clovis, Ca

One of the top rodeos in America and one of the oldest, the 105th Clovis Rodeo will take place April 25-28, 2019. Located in California's Central Valley, the rodeo is a celebration of the community's western heritage.
The Clovis Rodeo has grown into one of the top two rodeos in California and top ten across the nation. Making its debut in 2017 as one of only nine PRCA Gold Tour Rodeos in California, it is responsible for bringing some of the sport's world champions and top cowboys to the state.
The Clovis Rodeo opens on Thursday, April 25 with the return of the PBR Bull Riding Touring Pro-Division and some of the rankest bulls and toughest up and coming cowboys in bull riding. Three days of PRCA Gold Tour Rodeo action will follow along with the popular Clovis Rodeo parade on Saturday, April 27.

Watch for great local talent performing daily on the Coors Light Stage prior to each rodeo performance with your paid admission. Coors Light Stage artists/times subject to change.
Thursday, April 25 at 5:15 PM -The Danny Millsap Honky Tonk Band
Friday, April 26 at 4:15 PM – Nate Ryan's BandWagon
Saturday, April 27 at 12:45 PM – JJ Brown
Sunday, April 28 at 12:45 PM – Jason Cade

Tickets are on sale now! Tickets and information are available online at ClovisRodeo.com or at the Clovis Rodeo Box Office. See Box Office hours below.
Visit the Clovis Rodeo Ticket Office at the Rodeo Grounds from 9:00 a.m. to 2:00 p.m. Monday through Friday.
Beginning Monday, April 1st, the ticket office will extend their hours to 9:00 a.m. to 5:00 p.m. Monday through Friday.
Ticket prices range from $20.00 to $35.00. There is also a special Thursday/Friday ticket package available for $65.
 Tickets are also available any online at ClovisRodeo.com.