93.7 Kiss Country is proud to announce that Russell Dickerson will be the Thursday Night Featured Artist at the 105th Annual Clovis Rodeo! The show takes place after the PBR Bull Riding Velocity Tour on Thursday, April 25th at the Clovis Rodeo grounds.
Russell Dickerson
Thursday, April 25th – 8:30 PM*
(*after Rodeo Competition ends)
Clovis Rodeo Grounds
Clovis, Ca
Russell Dickerson was born for the stage. One of country music's most talked-about new talents — and the voice behind the smash single "Yours," a stunning ballad inspired by his wife of four years, Kailey, that's racked up over 33 million streams to date on Spotify, where he's been on the Hot Country, Country Gold Playlists and more for over a year, and exploded since being serviced to country radio. Now, thanks to "Yours," "Blue Tacoma" and "Every Little Thing," he's steadily built a serious fan base of his own. Strident, proud and fiercely determined in his artistry, Dickerson is that rare breed of artist who both writes with patient, staid intention and performs like a kid living out his wildest fantasy.
…Learn More russelldickerson.com
Join 93.7 Kiss Country for the 105th Clovis Rodeo April 25-28, 2019. One of only nine PRCA Gold Tour Rodeos in the nation! Great concerts, world champion cowboys and the best bucking stock in the sport come to Clovis every April because they say the fans are second to none. Grab your boots, grab your hat and join us for the 105th Clovis Rodeo.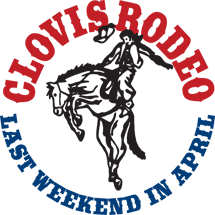 105th Annual Clovis Rodeo
Thursday, April 25 – Professional Bull Riding and Russell Dickerson in Concert
Friday, April 26 – Rodeo Performance and Aaron Watson in Concert
Saturday, April 27 – Clovis Rodeo Parade, Rodeo Performance & Clovis Rodeo Dance
Sunday, April 28 – Rodeo Performance
Clovis Rodeo Grounds
Clovis, Ca

Watch for great local talent performing daily on the Coors Light Stage prior to each rodeo performance with your paid admission. Coors Light Stage artists/times subject to change.
Thursday, April 26 at 5:15 PM – The Danny Millsap Honky Tonk Band
Friday, April 27 at 4:15 PM – Nate Ryan's BandWagon 
Saturday, April 28 at 12:45 PM – JJ Brown (After Party 5:30PM-7:30PM)
Sunday, April 29 at 12:45 PM – Jason Cade

Tickets and information are available online at ClovisRodeo.com or at the Clovis Rodeo Box Office. See Box Office hours below.


Tickets on sale now for the 105th Clovis Rodeo. Always the last weekend in April it is one of the most popular events in Fresno County and takes place April 25-28, 2019.  Fans wanting to purchase tickets can take advantage of extended hours at the ticket office for two days only on Thursday, January 17 and Friday, January 18 from 9:00 a.m. to 7:00 p.m. (The Rodeo's ticket office at the rodeo grounds will reopen again in March and remain open through April.) Tickets are available at any time on at ClovisRodeo.com.